I think Cheryl Yang's such a great actress so I'm on a bid to watch as many dramas with her inside as possible – as long as she has a reasonable amount of screen time, since 败犬女王 was her first starring role.  The first drama of hers I'm going to catch is Love Queen aka 恋爱女王。 The similarity in titles is but a coincidence!  Haha!  Shown in 2006, I read pretty good reviews of Love Queen online.  The forums also mentioned that Love Queen was a very low key drama and indeed it must have been!  I visited Poh Kim, Laser Flair (or Fair – can't remember), TS, MJunction and a couple of other DVD/VCD shops and none of the store assistants heard of Love Queen before!  Disappointing. 
Booze Queen (yesh, another queen, albeit unrelated) recommended The Hospital aka 白色巨塔 and I was hoping to find the DVD too, especially since the male lead is Jerry Yan (such eye candy) but none of the above mentioned shops sell it anymore; "Too old" I was told.  Very old meh?  3-4 years only what.  Chey!  Good things not scared old ok!
Anyway, here's the tudou link to Love Queen in case anyone else is interested.  http://www.tudou.com/playlist/id/555494/ 🙂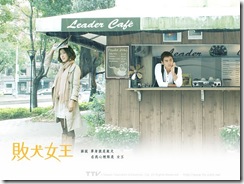 Started watching 败犬女王 aka Queen of No Marriage aka My Queen for the 3rd time last night.  I've never been a great fan of Taiwanese dramas so I didn't have very high expectations when Ch U first started showing the series.  After watching the first few episodes, however, I found it soooo funny that I went to buy the DVD!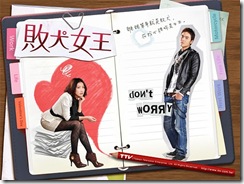 "败犬" (translated literally as "defeated dog") is a derogatory term referring to women who are unable to find a guy – doesn't matter how successful, beautiful, talented they may be. 
What caught my attention when I first started watching was the fantastic comedic timing of the cast.  This drama has also made me a huge fan of Cheryl Yang, the female lead.  In the show, there're many scenes where Cheryl Yang's character (called Shan Wushuang) doesn't speak and her thoughts are being narrated.  What impressed me is that Cheryl Yang's facial expressions are damn good.  She's never exaggerated and is able to give very nuanced expressions / body language to express the narrated thoughts.  Simply captivating!
The storyline is simple enough – older single woman meets younger guy (called Lucas & played by Ethan Ruan) but before their relationship even starts, the woman's ex-boyfriend (called Leslie Sung & played by James Wen) reappears and she finds out that it wasn't his fault that he "walked out" on her just before their wedding 6 years ago.  She then has to choose between the ex and the younger guy.
It may sound run of the mill but I think it's the way the scriptwriters handled the story.  The woman's pain over her ex is given a very realistic airing and viewers also get to see how her relationship between the younger guy and her is developed.
I don't want to go into the twists and turns in case there're any Chinese drama fan who hasn't watched it yet – though that's highly unlikely since it's the most popular Taiwanese drama export in recent years.  I read online that there were 2 camps of viewers – one that supported Cheryl Yang returning to be with her ex, and the other wanting her to choose the younger guy.  This was one drama that made me laugh (really loudly too) and cry. 
Love love love love love it!
(Note 1: To the folks who have watched it.. did you realise that in the scene where Lucas finds Leslie's medical report, the name on the medical report was James Wen, i.e. the actor's real name?  Hehe.)
(Note 2: I got the pics above off Google.  If they belong to you and you want me to remove them, I'll be happy to do so).