---
---
Hmm… am watching Zhong Yi Da Ge Da on Ch U now… must be a really old episode ' cos the pop duo, "Sweety" looks super young – and not very overlooking. Haha.
Some time ago, I mentioned that there was this pair of singers on 100% Entertainment and they looked very different on 2 episodes i saw… and i attributed it to the power of makeup. Now, i'm even more convinced that it's 'cos of makeup! 'Cos in Zhong Yi Da Ge Da now, Esther Liu (the currently really plump but looks very good with makeup half of the duo) is about the same weight as the other gal… can't remember her name… Joanne something. They're both not fat (heavy thighs though!)… but neither are they the TV-slim type almost all Taiwanese artistes are.
However, the point i want to make is, they're both not goodlooking. Haha. Esther Ng has rather small eyes… a great contrast to how she looks with the big dewy eyes now… hmm.. does putting on weight make your eyes grow bigger? I think not. Hence i can only conclude that i was right when i said that Taiwan has terrific makeup artistes. Muahaha.
I think i need a makeover photo… need to start saving up $$ to go Taiwan to get one taken!
———————————-
Did a bit of googling. Here's a pic of Sweety.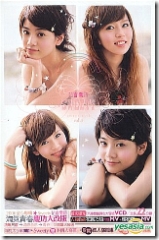 Hmm… why does Esther Liu remind me of Sanshun of My Lovely Samsoon? Haha… hmm… maybe with the current "plump wave" brought on by Korea, Esther Liu will gain even more popularity!! 😛
Joanne Ceng has lost a lot of weight though… maybe a bit too much… hmm… (Did anyone see Jamie Yeo's photo in The Sunday Times today? Solid figure man… every teenage boy's fantasy i bet!)
That said, i have nothing against fat people. I'm just being mean and making fun of Sweety 'cos they can't sing (at least not up to professional standards), don't honestly look good (makeup, makeup, makeup!), but i guess they make good canvases for makeup artistes?? Hehe. I do give them credit for being very sporting & ok to watch on variety shows. At least they're not the fake sweet-till-u-retch type.
Speaking of people who can't sing. I love the song in Jay Chou's latest album… the one he duets with Fei Yu Qing. I love the chorus sung by the latter… tho' i don't understand why Jay Chou would want to sing a duet with Fei Yu Qing 'cos it really shows how badly Jay Chou sings lor. Fei Yu Qing has this crystal clear voice that floats through the song & he enunciates the lyrics soooo well. Then Jay Chou comes on and the song is obviously too high for him 'cos he sounds all whiny & his usual mumbling of words muffles the lyrics. Bleah!