---
---
My pseudo bf wants to dump me. Says i'm an embarrassment to him…
Partner, partner's wife, shibby and i went to this new restaurant (that looks like and is at the same venue as the old Marche @ Heeren) for dinner just now. Think it's called Vil'lage or Vill'age or Vi'llage or some permutation of it. The food's pretty much the same as what Marche has, and it operates on the same barcode system too. Wonder why Marche doesn't sue them… i mean, if Fish & Co could sue Manhattan Fish for copying their distinctively themed restaurant, why can't Marche? Strange.
Dinner ended about 8:30pm and Partner & wife had to go off for another birthday celebration. Shibby and i decided to walk around a bit. Told him i wanted to check out this shop called Flowers in the Attic. I believe Kit Chan's a partner of that shop… but anyway, we walked 1 round around the 4th floor of Heeren but we couldn't find the shop. So we went to check the directory and it showed that the shop was on the 4th floor.
I looked at Shibby and said, "That's strange. The 4th floor is so small how come we can't find the shop?"
Shibby answered, "There's another section over there what. Didn't you know?"
"OH! I DIDN'T SEE THAT. WAHAHAHAHAHAHAH", i exclaimed & burst out laughing.
Shibby looked at me with a deadpan expression and said, "U're embarrassing me. Next time keep your surprise to yourself".
Win liao lor. Sigh.
Walked around Heeren a bit more. Not in the mood to shop but i somehow still managed to buy a ring from Swatch. Haha. The ring's shaped like a snowflake. Heehee. Matches my white snowflake Christmas edition watch i bought from Swatch last year. Hiak hiak.
Here're 2 pics i took of Pinky this afternoon. Was pouring the whole morning and early afternoon. Pinky and Horlicks were obviously enjoying the weather. Hehe.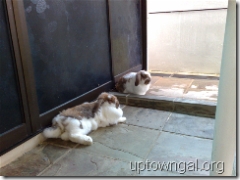 Tried to sneak up to take a photo of them sleeping but Pinky jumped up from his sleeping position. He's quite paranoid about being sneaked up upon.
After he realised it was me, he went back to sleep.. using the ledge of the washing area as his pillow. Haha.
It's Father's Day tomorrow. Any plans people?