---
---
Booze Queen, Iceman, GG, Bubbs and i went to this Jap buffet restaurant called Minori last night. I was tempted to try the restaurant after reading Wong Ah Yoke's review in the Straits Times. And my sudden inclination to try sake helped of course. Haha.
A spanner was almost thrown in the works when Boeeze Queen and Iceman read lousy reviews about the place at www.hungrygowhere.com. But after our dinner last night, we concluded that the bad reviews were largely unjustified.
The selection of food was good, ranging from sashimi, teppanyaki (u've gotta forgive my spelling. I'm xenophobic and don't intend to learn Jap), noodles, sushi, handrolls, tempura, etc. The sashimi (i loved the salmon and tuna) was very fresh. The meat of the fish was also tender but not mooshy. The flesh of the salmon tore away gently with each bite… which is important to me 'cos i really detest salmon that's chewy and tough.
Especially noteworthy were the grilled mushrooms (but be prepared to wait for a long long time for it!! Order many sticks in advance!), the chawanmushi and the warm sake (housepour). Ok… so the sake is debateable 'cos Booze Queen and GG preferred the cold sake that we picked off the cold shelf.
I'm pretty sure i'll go back there again. I know Iceman is keen to go back to the restaurant too. Heh. Yummy! 🙂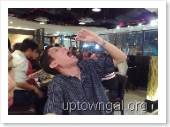 Told u Iceman will definitely be going back didn't i?
The wonderful sashimi spread!
GG enjoying the food.
Yummy sushi, kimchi pork, beansprouts…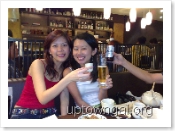 Bubbs, me, and Iceman's Asahi.
Booze Queen (formerly known as WC :P) looking really coy… heh…
We spent $255 last night, which i think is reasonable for the food we had. (The buffet was $32++/pax and alcohol was charged separately). Paid using UOB card which gave us a $10 voucher. Yay!