---
---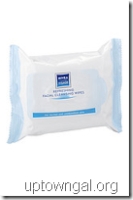 Bubbs introduced me to Nivea Facial Cleansing Wipes. It's like wet towels that remove makeup. Nifty to have around on late nights when i'm too lazy to wash my face before i sleep, and for removing makeup before going for tennis lessons.
Tried 2 other brands for comparison purposes – Simple and St. Ives. The sheets in St Ive's cleansing wipes are really small. So even though it's like 40 pieces per pack, sometimes i use more than 1 piece!
Simple's not bad… but doesn't remove makeup as effectively as Nivea. I base my conclusion on the fact that although the Nivea wipes do not remove water resistant mascara completely, it does remove more of the masacara than Simple.
The only gripe i have about Nivea is that the wipes tend to be a little porous… so the removed makeup sort of like seeps into the flip side of the wipe. But recently, i chanced upon the "Gentle Facial Cleansing Wipe" from Nivea… and (don't ask me why) but the material's not as porous!! The sheets are slightly smaller but i think it's much better. Plus, it's less heavily scented and doesn't irritate my nose as much. Heh.