---
---
My dad celebrated his 58th birthday today. Wow. Time sure flies… i find it hard to believe that my parents are that old… 'cos they still look pretty young to me. In fact, when i look at my oldest uncle, i find it hard to believe that he's about 70! Heh.
My dad's actual birthday is 18 Aug but he decided to give my uncles a birthday treat at Marina Mandarin Hotel today. The buffet was good!!
1st dish i attacked of course, were the oysters! Not bad… fresh (fresher than the ones at The Line, surprisingly).. but not as huge as the ones in Makati.
The boiled prawns were really good too. The flesh was succulent & sweet. Sedap!
The assortment of cheese & ham was good too. Really satisfying!
The black pepper crabs were not too bad… tasty but the crabs were too small! Didn't have much meant despite the effort in tearing apart the shell.
The dessert was excellent… chocolate fondue, mousse, cakes (u MUST try the cheesecake!), haagen dazs ice-cream, etc.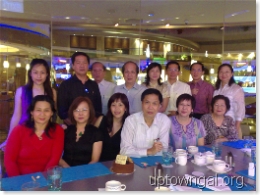 My parents and i seldom take photos together 'cos all 3 of us have horrible smiles. But this was a pretty ok group shot. 🙂
I also tried the tempura & sashimi (both were excellent) though i didn't have enough space in my stomach for the other western & indian food. Overall, i think the buffet at Marina Mandarin (#3) is better than The Line at Shangri La. I think it's $42+++ on weekdays and $52+++ on weekends… either that or $47 and $57 respectively. Worth it. Perhaps this could be the next outing for my Buffet Buddies? 🙂