---
---
Well, decided not to post the notes I wrote about Australia here.  Frankly, Australia didn't leave that deep an impression on me.  I enjoyed myself thoroughly, as anyone would have while on holiday.  But while Australia is an above average country on many fronts, it didn't have a fascinating enough history to enchant me, nor amazing architecture to stun, nor beautiful scenery to take my breath away. 
Here're some of the pictures I took.  To sum it up, the best part about Australia was the company I was with.  (Wait till you hear my stories about my 8th aunt…).  Anyway, just to clear the backlog of content that I need to put here… I'll just let the pictures tell the story.
Part 1: The Wedding
The wedding venue.
My mom & I.
The sweetest (pun intended) wedding favours!
Everyone had a good time on the dance floor.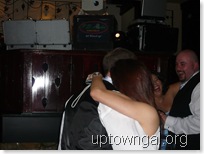 Sober or drunk…
They had a good time…
It was a lovely wedding.
Will post Part 2 another day.  Sleepy…