---
---
After reading about the Southern Ridges in Singapore and seeing the nice pics of Henderson Waves in the papers, Iceman and I decided that we would visit it this weekend.  We drove and parked at Telok Blangah Hill… somewhere along the middle (I think) of the 9km Southern Ridges.  Took a short walk to scout the surroundings and some saw some scenic spots that would make for a good backdrop for wedding photos.
It was about 6:30pm when we reached… and we figured we probably wouldn't be able to cover the whole 9km stretch.  We decided to take a walk to Henderson Waves and it was a nice walk.  Nice cool evening, a few mosquitoes but luckily they were feeding off other people and not us…
Here're some pics we took… it was difficult to get good shots 'cos the park & bridge (Henderson Waves is essentially a super high – 63.something metres above sea level – overhead bridge) were teeming with people.
Somewhere atop Telok Blangah Hill.
Henderson Waves… I read somewhere about it being built based on a mathematical formula.  Talk about a nerdy origin…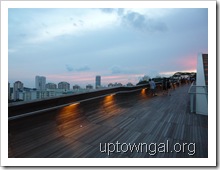 The colours of the sunset were really pretty.
Good looking people to match the great backdrop.  HAHAHA.  *Surging ego*
We intend to make a couple more trips to check out the entire length of the Southern Ridges.  Lovely place for a stroll.  🙂