---
---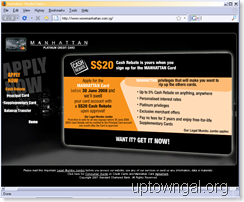 I've been waiting for 2 weeks now for the issuance of Standard Chartered's Manhattan card.  I was going to pay the deposit for Hyatt tomorrow with the card but I've since postponed the deposit payment till next week as the card application is still "in process".
I couldn't take it anymore… and sent this feedback to SCB via their website:
For the past 1 year, I've been spammed non-stop, sometimes even twice a day by SCB's telemarketers trying to sell me bank products.

Finally, I decided to be SCB's customer by applying for the Manhattan card on either 25/6 or 26/6/08.  It took SCB 1 week to inform me that my NOA was needed, although I allowed SCB access to my CPF online account.  I told your processing officer that I needed the card urgently for a big payment on 10/7/08 but when I called SCB 2 days ago, I was told approval will take another week. 

Today, I got a letter from SCB saying that I'm now your Personal Credit customer. 

It sure is tough to be your customer.  I have unwanted products stuffed down my throat – & am denied the 1 & only product (i.e. Manhattan card) that I want.

Could SCB please have mercy & expedite the ONE product I need, & stop harassing me for all the others I don't?

Thanks.
Sigh.  I hope I get the card soon.