---
---
My favourite game in Facebook now – My City.  Hehe… add citizens into your virtual city and watch it grow.
Two of my favourite so far…
I thought the McDonald's was so cool!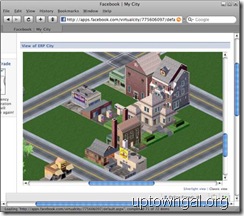 Then for some reason it changed to Mobil… but that's still ok given the surging oil prices.  Haha.
A city I created for Iceman!  Haha… cute eh?  😛
  Okie.. that's all for now.  Goodnight!