---
---
Managed to catch the FIR concert on 8/8/2008 courtesy of ASA Tours (and my lovely mom and aunts who bought expensive tour packages from them).  :P  The concert was fantastic – a high octane performance and good audience interaction.  I was impressed with Faye… she could sing with a steady voice even when there were tears streaming from her eyes.  Heh.
The usual FIR hits like "Lydia", "Fly Away", "Get High", "Wo Men De Ai" were played to rapturous applause from the audience.  I was disappointed though that my favourite songs – "Love Love Love" and "You Make Me Want to Fall In Love" were not sung.
The audience also gave tremendous support (screams and applause) to guest star, Jam Hsiao Jing Teng.  Such tremendous was the support that I nearly forgot it was an FIR concert I was attending.  Heh.
Here're the photos taken with the Panasonic Lumix FX33.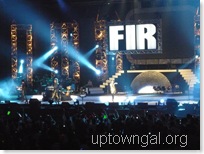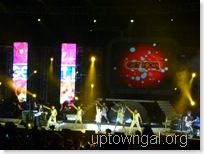 Am trying to upload 2 videos onto youtube so I can post them here.  It's taking a very very long time.  Sound on the videos wasn't very good either… guess the N82 has better sound capture, being a handphone.  *Shrugs*.