---
---
Attended a really really old friend's wedding last week.  I classify this friend as my "TPJC friend" though that's not really accurate.  I was in TPJC during the first 3 months of my JC 1st year.  This friend, NSG, was in TJC during the first 3 months.  After the 'O' level results were out, I transferred to TJC while NSG transferred to TPJC.  Coincidentally, NSG was placed in the same class as my ex-TPJC classmates and I also got to know his TJC classmates after I went to TJC.  So through these common friends, we became friends too.
I haven't spoken much to NSG in recent years but I regard him as a very special, old friend.  During our JC years, I used to borrow his scanner to scan photos for my personal homepage.  Years later, when I was in real estate, he also introduced me to his uncle's company, of which I closed 1 (or 2) deals with the company.  I was touched that he helped made that introduction 'cos we drifted apart when he was doing his national service and I was in NTU. 
In that sense, I really treasure the people I got to know in TPJC.  I feel that they are less selfish than some of my classmates in TJC and their sincerity makes me trust them completely.  There's another friend I made during the 3 months in TPJC… though we never met again after we both left TPJC, he knew I was in real estate when I spammed my handphone address book to market my services.  3 years later, though I had left real estate by then, this friend nonetheless contacted me and wanted to buy a flat through me.  I was truly touched.
Anyway, I saw 4 TPJC friends I knew during NSG's wedding last week and we promptly exchanged handphone numbers and facebook contacts.  Though I haven't seen them in the last decade, conversation flowed easily and I was totally at ease with them.  It was like I could laugh with all my heart and not have to guard against anything or anyone.  It was great.
Here's a group photo we took at the end of the dinner.
From left: Me, LL (gal in pink dress – my TPJC friend's classmate after I left TPJC), HPY (guy in white shirt), NSG, NSG's wife (I know her from TPJC too!  Haha.  Don't you lurve her Grecian looking gown?  It's lovely isn't it?), Spacer (guy in light blue shirt in back row), Rain (gal in satin blue dress in front row), Ange (she's my primary school classmate… we went to different sec schools but met again in TPJC) and Eteo (guy in striped shirt).
Spacer and HPY said I look pretty much the same as when I was in JC.  I think they look the same too!  Here's a pic of HPY and NSG to prove it!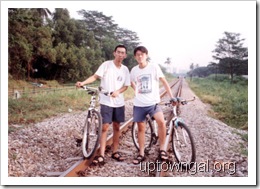 Remarkable huh?  Haha.  Cheerios people!