---
---
Just went to select gowns for the photoshoot.  I'll have 5 outfits in total – actual day white gown, actual day evening gown, actual day kwa, photoshoot evening gown and photoshoot outdoor gown.  Here's a sneak peek:
Front & back of actual day white gown.
Front and back of outdoor gown for photoshoot.
Kwa – not much choice here… there were 2 kwas in small size and this one fit better… I preferred it too 'cos I liked the silver beading rather than the white beading of the other one.  Heh.
Now comes the dilemma… I liked the colour of this turquoise gown (it's a little more bluish than what it seems in the photo) but I really can't stand the huge ruffle in front.
Then I tried this gold cheongsam which I really liked and I think will go well in the photoshoot since I already have something in white, red and bluish purple.
That said, if I choose this cheongsam… it'll mean I have 2 cheongsams for the photoshoot?  Like a bit boring right?
The lady at French Bridal then showed me this tube gown which I like too (the design's actually almost the same as the gold cheongsam)… but… if I choose this dark navy blue (it's almost black if you see it in person), won't it be very boring 'cos my other evening gown's also dark?  (The back view is the more accurate shade of navy blue).
Sigh.  How?  I've reserved both the gold cheongsam and the navy blue tube but I can only pick 1 for the photoshoot.  I have less than 48hrs to decide… help!!
Oh… and in the midst of my browsing, I found this purple cheongsam which I thought is really sweet.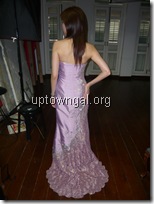 Thinking of renting it for the JB dinner.  The side panel's made of translucent lace… hence erm, I wasn't posing with my arm… I was covering my dark undies… hahahahaha.
Let's recap the colour scheme here…
This? 
Or this?
Or maybe I should just give them a ring and use the purple cheongsam?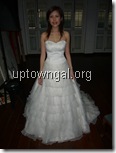 How how how?