---
---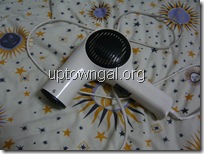 Sigh.  Had to sadly buy a new hairdryer to replace the Rowenta one above.  I really like my Rowenta hairdryer.  There isn't any special features to it but it has served me well.  My parents bought it in 1977 – even before I was born!  The fuse, unfortunately, blew a couple of months ago and it doesn't look like my dad intends to fix it.  (This is the 3rd time the fuse blew – though the first two times was caused by me – hair got sucked into the fan coil).
With much despair, I bought a new hairdryer from Philips. 
I had my reservations about Philips 'cos I used to have one when I was in NTU and it didn't last the 2 years I stayed in hostel!  Didn't have much choice though 'cos Harvey Norman carries mainly Philips or Braun and Braun is quite expensive.
Oh well, I hope it lasts.  Bye bye Rowenta hairdryer.  You were the best!!