---
---
Booze Queen and I have been going to our favourite eating places around Raffles Place to bid farewell to the food we love.  Here're some of them.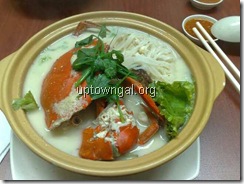 The crab beehoon at Don's Pie at China Square Central.  The soup has a herbal base and slices of yam that are boiled till they melt in your mouth.  The noodles (chu mifen) is delicious as it absorbs the taste of the soup, and the sweetness of the crab.  It costs S$16 per bowl.  Definitely worth every dollar!
Baikohken is a ramen place at 7 North Canal Road.  The chefs are from Japan so you get authentic ramen.  The menu's rather limited but hey, we're talking about quality here.  Not quantity.  My personal favourite is the butter and corn ramen.  You absolutely must try the egg.  It's sooooo good.  The above is a pic of the Miso Butter & Corn Ramen + egg.  Costs S$12.  Yummy!
Booze Queen and I visited my favourite fish soup place at Golden Shoe.  This is super value for money.  The big bowl above cost only S$4!  (The usual bowl costs $3… I asked for the medium serving 'cos I didn't have rice with it).  The stall also serves a large serving at $5 per bowl.  The soup is light and not overly milky.  The fish slices are extremely smooth and very fresh!  (I'm very particular about seafood that smell fishy).  The stall is also generous with the fried shallot and hua diao – you can ask for more.  The stall doesn't seem to have a name but it's at #03-25 Golden Shoe.  Be prepared to queue for a bit but it's worth the wait!
That's all for now… Booze Queen and I intend to visit this Vietnamese cuisine restaurant at Circular Rd & have the seafood beehoon at Il Fiore.  Will post more pictures in time to come!