---
---
Heard from a colleague that Ramen Culture at Icon Village opened today so we decided to pop by for lunch.  Between the 3 of us we had the seafood yakisoba, black pig ramen and chilli miso ramen.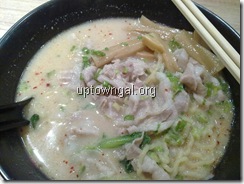 Black Pig Ramen
I really enjoyed my black pig ramen – the soup was tasty and even though there were thin strips of fats in the pork, it didn't have the horrible squishy texture which I hate.  My colleague, Lian, said that the seafood yakisoba was tasty, albeit a little too oily.  Booze Queen didn't like the chilli miso though.  She has since swore (almost) on Twitter that she's never going back to Ramen Culture.  She felt that the ramen was too oily and lacking in taste.
I think I wouldn't mind going back but not in the next few months – Ramen Culture really needs to sort out their operations.  3 tables were taken up by the staff's belongings – laptops,  bags, etc.  The staff were disorganised and the food took forever to come.  Tables that came after us got their food first, not to mention that there was a mini explosion of sorts while we were waiting…
The 3 of us were seated at the counter when a loud "boom" went off.  We heard glass shatter and smelled something burning.  I think one of their pots burst or something.  The cook gave a haphazard apology while the staff behind the counter scrambled to get things in order.  I was quite worried about broken glass ending up in our food but thank goodness my fear was unfounded.
Anyway, I wouldn't condemn the restaurant just yet – but I wouldn't suggest anyone eating there in the near future.