---
---
Took one day leave today.  Initially took only half day afternoon leave to visit Embrace Dental to get replacement aligners done 'cos there's a hole in my upper aligners.  Then decided that since I was going to be on leave, I might as well go for a manicure & pedicure, as well as get my hair trimmed.  In the end, I decided that dressing up for half day of work was just too troublesome so I took the entire day off.  Wahaha.
Here's a pic of my new haircut!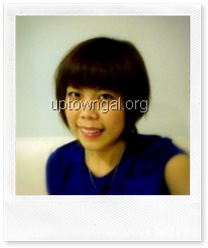 I initially wanted something like this:
But my fringe hadn't quite grown out and the above really reminds me of Napkin's hairstyle.  So when the stylist suggested cutting a thick fringe, I agreed.  The ends of my hair is still a little wispy from the last cut but the sides is pretty "stepped" as seen in the pic immediately above.  Hmm… guess one can't tell from the pic I took of myself.  Wahaha.  Living room was a little dark.
Anyway, I gotta go shower & zzz soon.  Tired from being out the whole day!