---
---
Haven't blogged for so long because my boss went on a 2-week Japan holiday.  Nearly died trying to cover all the deals that seemed to flood in.  The minute my boss came back, I took leave to just nua.  After that, I got busy preparing for my own Japan trip.  Hehehe. 
Here's what I did…
1. Hair Cut!!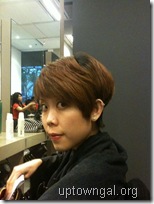 To ensure that I earned the right to walk next to Booze Queen in Japan, I went to cut my hair.  In fact, I got it cut not once, but thrice!
I showed the stylist a pic of what I wanted.  It was risky – 'cos the style I wanted required waves at the back and my chin length hair was a little short for it.  Nonetheless, he decided to take up the challenge and thus my hair got permed, then trimmed.
Unfortunately, it totally didn't come out the way I wanted.  So I decided to chop it all off, and go with this 2nd choice of hairstyle (which I also had a pic of).  I didn't leave the salon till 11:15pm that night!  Heh.  Poor stylist.
Anyway, that was last week.  I visited the salon again 2 days ago, with the intention of colouring my hair.  The stylist was however, rather traumatised that the curls he did for me all straightened.  So he insisted on perming and cutting – again!  What was supposed to be a 2.5-hr perm & cut, stretched to 4hrs!  The pic above was taken by Azure when she arrived at the salon for her hair appointment!
2. Winter Wear
The last time I travelled during winter was way back in 1995 and I used a winter jacket borrowed from my mom's friend then.  The hunt for winter clothing thus started.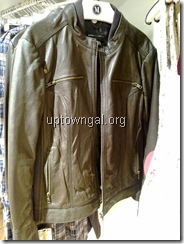 I initially couldn't decide to buy a trenchcoat like jacket, or a leather jacket, but chose the latter since I figured it would go with both boots and sneakers.  Bought the above from Mango at an obscene price and earned myself membership rights at Mango at the same time.
I was also very tempted by this white down jacket from Uniqlo.  It's sooo light!!  Only 200g!  And you can fold it into this small bag so it's extremely space efficient. 
Here's a pic of me trying it on for size.  Was dissuaded from buying by Booze Queen since I probably can get it at a cheaper price in Japan.  Heh.  Cute hor?
Uniqlo also has a range of inner wear with their "heat tech" technology that's supposed to keep you nice & warm.  I bought a black scoop neck long sleeve top, as well as the polka dotted turtleneck top.  Here're more pics of me cam-whoring.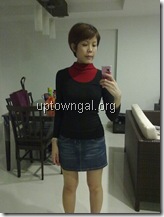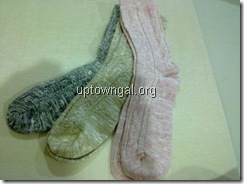 I also bought nice & warm knitted socks from Uniqlo.  Am a little worried about my feet cramping in Japan – they tend to cramp if I have to stand for more than an hour, or if it's too cold.  Given that I'm likely to stand more than 1hr in cold weather in Japan, I'm… quite screwed.
I also liked this beret from Uniqlo but decided that I can get it in Japan.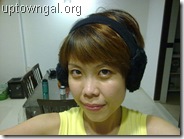 If my ears get too cold, I have these cute furry ear muffs borrowed from Booze Queen.  Hehe.
I also bought heat tech leggings but didn't really like them – ended up giving them to my mom who's also going to Hokkaido the same time as me!  Hehe… but she's going with a tour group whereas I'm going with Iceman, Azure, Ms Trenchcoat & Booze Queen (only for Tokyo leg).
I'm so looking forward to the trip.  Hehehehe.  I will, however, miss Twitter and Weibo terribly.  Sigh.
Ok.  I gotta get back to doing my policy wording now.  Ciao!!