---
---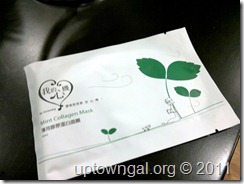 I seriously don't know whether applying face masks will bring any benefits to my face…  I guess it's one of those "no harm trying" kind of thing.  Unfortunately, being the lazy person I am, I hardly apply masks, though I've bought and have been given quite a few. 
Anyway, there's this temporary stall at Icon that was selling these 我的心机 masks.  The stallkeeper says it's been feature on 女人我最大 and since it was selling for $2 per mask, I decided to buy some to try.
Just tried the mint collagen mask above.  Loved the tingly feeling on my face.  My skin as pretty hydrated but once the lotion was fully absorbed… I felt it wasn't moisturised enough so I apply a bit of my SKII moisturiser.  Maybe I'm paranoid.  Haha. 
One funny thing I noted – the Chinese name 我的心机 was translated as "My Scheming".  Hehe.  Just sounds so wrong.  Wakakakaka.