---
---
The trip was extremely fun despite the terrible inconvenience and distress caused by Jetstar (they kept sending me SMSes & e-mails saying my flight itinerary changed, despite me logging into their system to confirm the amendment to my return flight 3 times.  Then on the night before my  flight to HK, I got an erroneous SMS saying that even my departure flight was changed when it wasn't!)
Shopped quite a bit & ate even more!  Only sad news is that my favourite cha chan teng, Kam Moon Kok, has closed.  Learnt from a neighbouring Chinese medicine shop that they sold the shop to this real estate company and closed.  I guess they cashed out.  Sob.
Anyway, I didn't take much photos of my companions nor me this trip… my photos are all of… FOOD!  Here're some selected shots!
Saw this on Jetstar's menu.. poor chicken.. had its balls crushed and laughed at?
Che's Restaurant
Fried fritters in cheong fun.  Not bad.  The fritters were light & crispy, cheong fun skin was thin.
Custard & salted egg bun.  Really love this.  I like the balance between the sweet custard & the salted egg bits.  There is also a generous amount of filling!  Slurp!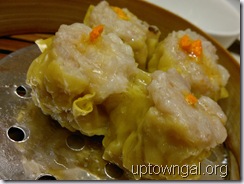 Siew mai.  I'm not a fan of the siew mai at Che's 'cos I find the meat a little fatty.  It's tender & tasty & the skin is thin… but I don't like the bits of fatty meat inside.  Heh.  Personal preference.
Har gow – I love this 'cos of the super fresh and crunchy prawns.  The skin could be thinner though.
I didn't order the beef tripe but was told it was pretty tasty.  It comes with some dried beancurd skin that's hidden below the tripe. 
Egg tart.  This really has to be eaten when it's fresh out of the oven so that the egg in the middle is still gooey and the flaky crust melts in your mouth!
Char siew cheong fun.  I've always liked this 'cos the char siew is lean & the soya sauce makes the entire dish very tasty.
Dumpling in chilli oil & vinegar.  First time I tried this at Che's.  Average… Booze Queen says the one from Din Tai Fung in Singapore is better (will try that soon!!)
Che's signature crispy char siew pau.  This is the epitome of crispy char siew pau!  The crust is crispy, sweet & buttery at the same time.  The texture sort of reminds me of the Rotiboy bun that took Singapore by storm a few years ago.  The char siew inside is tasty & moist with gravy.  Excellent!  This never disappoints!
Lotus leaf rice.  Looks normal right?  Wait till you see what's inside…
There was a fresh scallop, baby abalone, dried scallops, mushroom & meat!  Super tasty!  Probably the best lotus leaf rice I've ever tried.  Yummy… Will definitely have this again on my next trip!
I can't remember the exact name of this dish.. white sesame & black sesame ball or something.  Anyhow, it was good.  Really like how the black sesame inside flows out the minute you bite the ball.  *Slurp!!
Yat Lok
Tried the highly recommended roast goose from Yat Lok.  I really liked the skin – super crispy & tasty even after being soaked in the soup.  The meat, however, was smelly!!!!  Only ate some parts that were less odorous and gave the rest to Iceman.  Bleah!
Tim Ho Wan
This is an apparently well known 1-star Michelin dimsum place.  It opens at 10am but Azure got us there at 9am and she obtained pole position in the queue!  Well done!
Check out the losers in the queue behind us!
The dimsum was pretty good… but I didn't like it more than Che's… the pricing, however, definitely deserved that 1-star!  Super cheap!  The 4 of us paid what 1 of us paid at Che's!  (In other words, the price was like a quarter of Che's!)
Funny English. Heehee.
Phoenix claws aka chicken feet.  Hehe.  I didn't (and don't) eat this but I recall those who ate saying that the way it's done is pretty different from Singapore… so… maybe it's not not nice… just that it doesn't match our expectations.
Char siew cheong fun.  The parsley ("yim sai" in Cantonese) inside totally ruined this for me.  The only thing I thought was good was the super thin cheong fun skin (better than Che's).
Har gow – average.
Siew mai – I didn't really like this.  Somehow the taste wasn't that fantastic. 
Crispy char siew pau – there wasn't enough crispy bits on the skin.  The char siew was also a little too sweet so the blend between sweet & buttery/ salty wasn't there.  Really paled in comparison to Che's.
Pan fried carrot cake.  Bland.  Tasteless.  🙁
Lotus leaf rice… I can't remember much about this except it was super salty and we couldn't finish it.
Steamed pork ribs.  I think this was not too bad.  Tasty.
For dessert, we had this osmanthus flower & wolfberry seed cake.  It was good.  Light & refreshing, I like the bits of flowers & wolfberry inside.  Good!!
Tong Tai Seafood (Temple St)
Sweet & sour pork ribs.  Not that good.  I wouldn't order this again.
Kangkong in bean paste.  I thought this was average only.  The kangkong was a little "old"… would have been nicer if it was more tender.
Salt & pepper squid with vinegar dip.  Super love this!!!
Pomfret steamed in soya sauce (Cantonese style).  I really hate pomfret 'cos I find the flesh very smelly but this one was actually not too bad (I pinched a small piece).  Maybe 'cos it was taken fresh from the tank… or maybe pomfrets in HK are less smelly… I don't know… but my friends agreed this dish was the highlight of the night for them.
Claypot bittergourd.  The gravy was tasty.  (Can't say much 'cos I don't eat bittergourd.  Haha).
Razor clams cooked in black bean sauce.  This was not bad.  Would've liked it more if it were spicier!!
Ah… beer… Tsingtao… one of my favourite…
Ok… that's all the pics for now.  Just way too many food pics and my stomach is churning like crazy.  Will post the rest another time!  *Drools*.
Picture credits: Nokia N8!!