---
---
Won a Paddock Club ticket for the Friday practice session.  Marvellous experience – you get to watch the cars in aircon comfort, don't have to worry you're going deaf & shout when you want to talk to your friends and the non-stop flow of food & drinks (alcoholic & non-alcoholic) – glorious.
The minute Booze Queen & I stepped into the McLaren VIP suite, we were greeted by the friendly McLaren staff & given goody bags. The goody bag contained a waterproof jacket, earplugs & a McLaren cap.
There was also a simulator where you can try the Singapore Circuit.  I didn't try… but Booze Queen did… and it's really not that easy.  Haha.  She kept turning the wrong direction at one particular turn & kept getting stuck against the wall. 
The staff was also extremely attentive.  Once we were seated at our table, they brought us yummy appetizers.  I didn't take much food photos – was busy absorbing the whole atmosphere & experience.
The mains & sides were served buffet style.  I really really loved this mains – Alaskan crab on glass noodles.  The crab was sooo fresh & yummy.  The glass noodles were very well marinated with this tangy, citrusy gravy.  Sluuuuurp!
The wagyu beef ramen was also not bad.  The beef was extremely tasty though I didn't like the fried beancurd skin thingy so much.
Loved the live interview with Jenson Button at the McLaren suite.  Such a pity Lewis Hamilton was only scheduled to make an appearance on Saturday. Boohoo!
Button's really charismatic in person.  His face looks smaller than on TV too.  Hehe.  Love how he makes eye contact with the audience.  So charming.  Hahaha.  I shall henceforth add him into the list of drivers I support! 
Another highlight of the night was when we got to do the Pit Lane walk… and… WE VISITED THE MCLAREN GARAGE!!
There were hordes & hordes of people but it was worth it!  Don't know if I would ever have another chance to do this walk!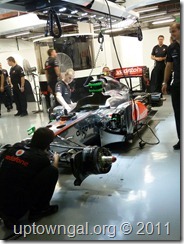 Love this picture of Jenson Button's car!
Here's a small pic of me with Button's car in the background.  Didn't manage to take a picture of Lewis' car as it was really swamped in the garage with all the other guests of McLaren's.
And this is Rosberg's car!
All in all, it was a terrific experience.  I guess if you pay $6k (or so I'm told) for the Paddock Club 3-day package, that buys you bollocks of good service.  I can hardly articulate the good service.  When seated at the Paddock Club, all I had to do was turn my head around & someone would come & attend to me.  Champagne, wine, food, dessert – they really pump you with food & drinks non-stop.  Sort of reminds me of how First Class service in a plane would be like.  Hahahahaha.