---
---
I guess everyone's really excited (or not) about Jia Jia & Kai Kai coming to Singapore to breed for 10 years. Foreign talent, they say.
Anyway, I had lunch with clients at Sichuan Douhua (UOB Plaza) on Fri and guess what the restaurant gave for complimentary dessert?  Yeap, you guessed it – little pandas!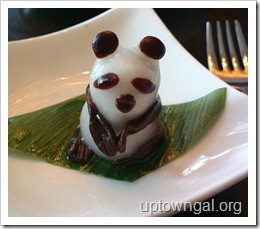 There was a PRC in our group & I think he was the only one who didn't eagerly tuck into the cute little red bean panda.  Someone joked if it's cos it's a national treasure so he's not eating it.  Hehe.
The table (for 12 pax) had this really huge tea cup too filled with tea.  Couldn't resist taking a pic (well, we were early so my boss & I took pictures before the others arrived.  Haha).