---
---
The Asian WCS Open, aka Swingvitation has come and gone. Great fun. I took the choreo class by world champs Jordan and Tatiana and we performed the routine on the Saturday night of Swingvitation. It was really challenging and my takeaway from it is, in performing any choreo, it's vital to have the right partner.
I also took part in the Jack & Jill. Newcomer category so no points awarded the world swing dance council. Came in third, which was more than what I expected so that's really happy news.
Here's a pic of the partner, Matthew, I drew in the finals.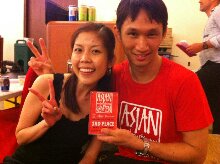 I'll still be continuing lessons at Mosaic. Hopefully, I'll be good enough for novice level next year. 🙂