---
---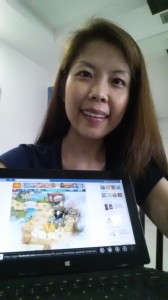 Came across this trial user programme Microsoft was running for their Surface RT devices so I registered for it and was fortunate enough to be selected. Before getting my hands on the device, I tried to do some online research about the Surface, what are the apps available, etc.  Unfortunately, there didn't seem to be much info available – especially when it came to apps.  The issue was that in order to properly explore the Windows Marketplace, I had to do it from a MS device.  I thought this was totally dumb because if I were going to spend money buying a device, surely I needed to know beforehand what it offered right?
That peeve aside, the Surface RT is a pretty decent device. I like how the keyboard that comes with it doubles up as a screen cover. Although I initially struggled with the keyboard, I soon got used to it and realised I can type quite quickly and accurately on it.  I also love the on-screen keyboard and the various display option it gives (split/ normal qwerty/ tablet friendly qwerty, etc).  The word prediction was also accurate and the keyboard is a joy to use.
Battery life is decent and I get 3-4 days of moderate use (mainly games/ browsing/ Facebook for about 1-2h per day) with each charge (not that the battery runs flat after that but I tend to charge once it drops to 20-30%).
The MS Office apps that came pre-installed are definitely a plus – full functions and I didn't need to spend any money on them. What I love most got to be the IE browser.  Yeap! Never thought I'd say this because I have been using Chrome on my laptop for years but it is fantastic to have a proper browser on a mobile device.  I've been able to watch Flash videos (all my TVB dramas!) and play Facebook games like Pet Saga and Candy Crush that run on Flash.
The main drawback is the lack of apps. No instagram (not yet at least), no official Facebook app, no WordPress, the Citrix app can't use web interface to connect, etc.  Which is a pity and the reason why I struggle to call the Surface a tablet.  In my mind, a tablet is a mobile device that's all about apps!  I have been blogging and accessing Facebook on the Surface but that's all done through the IE browser – which essentially means I've been using the Surface like a laptop.  The fact that it allows you to plug a USB device (e.g. a thumbdrive) into it really makes it akin to a laptop.
Thus after using the Surface for almost a month, I think my conclusion is that I may buy one in future to replace my laptop (the soon to be launched Nokia tablets running Win 8 look really swanky!)… but if I were looking for a tablet, this wouldn't fit my needs.