---
---
My extended family always comes together a for Christmas gathering (usually lunch) though majority of the family are not believers. I can't remember when it started but this has been the tradition for the last 10-11 years.
I've never given our Christmas get-togethers much thought till this year when my 8th aunt suffered a stroke & we applied for "leave" from the hospital so that she could join us too.
Unfortunately, my 4th uncle didn't join us as he isn't well – suspected prostate cancer. This is the 3rd negative health news the family has heard about in recent weeks as my cousin (my 4th uncle's daughter) nearly had to be hospitalised for dengue fever 2 weeks ago.
It's been a long time since so many unfortunate things have befallen my family – 11 years. In 2002, my maternal grandparents, uncle & my paternal grandmother passed away. Since then, my extended family have been blessed with good health & happy events. I hate to think of it this way but it's coming 12 years & it may just be the start of a sad time; that another cycle of illness & even death may be approaching.
I didn't take many photos today – only 2 random shots of 1) my 8th aunt doing a video call with my 6th aunt in Melbourne & 2) my mom & aunts having an enthusiastic discussion over which concert DVD is the best. Maybe I should start taking more photos at the next gathering.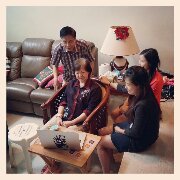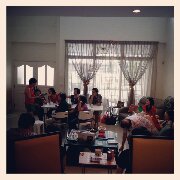 The words of this really old Christian song comes to mind.
The things that I love
And hold dear to my heart
Are just borrowed
They're not mine at all
Jesus only let me use them
To brighten my life
So remind me
Remind me dear Lord