---
---
Got more cute pics of the bunnies.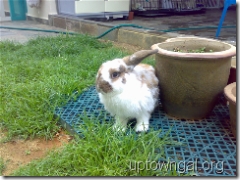 Guard duty.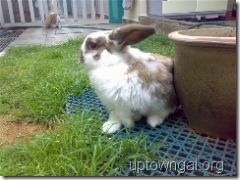 "Red alert – what's that sound?"
"We have to be careful of catruders, u know!"
Pinky en pointe!
"Don't think of touching my food!"
A very wet Horlicks.
Ms. Michelin
Pinky snoozing away.
"Sorry, didn't mean to poop on the floor"
A very handsome Coffee.
Lazy Peanut on a hot afternoon.
Peanut @ the front garden.
Muah Chee & his food tray.
Looking absolutely toy-like!
The bunnies send their love. 🙂