---
---
I am sooooo bored in office now. Am tired (physically & mentally), sleepy, and it's a darn Monday morning! That makes me extra whiny. Have been talking to Iceman online while sending out emails to clients & underwriters. Sigh. Thank God for MSN. Might have died of boredom otherwise. Thank God for multi-tasking skills too. And for MsgPlus for hiding away my MSN in their very fantastic Boss Protection Mode. Sigh. I'm suffering from a case of super duper low morale now. Argh. Should've played harder over the weekend. Damnit! AND NO ONE RESPONDED TO MY KOPI INVITATION??? WHERE ARE ALL THE RAFFLES PLACE SLACKERS????
———————
Met Partner for lunch. May i present to you… evidence of how bo liao we were during lunch… photo of poor Stitch who lost 1 ear and was condemned to eternal suffering in Partner's bowl of leftover soup.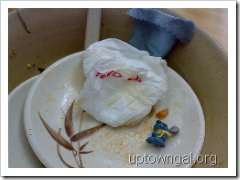 ———————-
Another Mon gone. 2008 is coming man.