---
---
Finally got down to doing my claims for my Manila trip today. The hotel was expensive man… S$1400+ for a 4-night stay. But oh well… it's on company's expense. Heh. Doesn't matter. Haha. I enjoyed the room. The secretary told me that the reason why the room rates were so expensive was 'cos the single rooms were all fully booked and hence i was booked on the deluxe room. Muahaha. 😛
Here are some pics:
My room on the first night. Really huge with 2 super single beds (i think – the beds were just slightly smaller than queen beds!). Also had a couch and a spacious study desk. 🙂
Patience loved the bed. Konked out immediately upon arrival.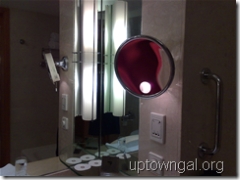 The bathroom was impressive – large with separate bath & shower areas. There was even this magnifying mirror with an attached light!
This was the mini-bar area. Impressive huh?
Shifted to a slightly smaller room with a huge (at least) king size bed the 2nd night 'cos i was on a smoking floor the first night. Nonetheless, no complaints! 🙂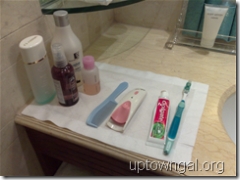 The excellent level of room service – i dumped my toiletries on the counter top and when the chambermaid/ chamberguy cleaned my room, my things were arranged nicely on a linen hanky!
Night view from my room – facing Glorietta 3 (1 of the many shopping malls in the vicinity).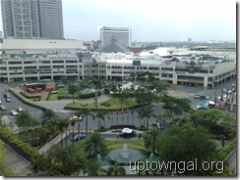 Same view but during the day.
Had dinner at some fancy Italian restaurant 1 night. This soup was served with the ingredients (lobster, clam and can't remember what else) on the plate dry… then the soup poured in! Interesting! Heh.
"The Fort" – another Ayala land development that reminds me of Clarke Quay.
The Filipino version of pisang goreng – with icecream too!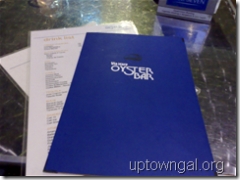 My fave restaurant – Via Mare Oyster Bar at Greenbelt 4! *Slurp*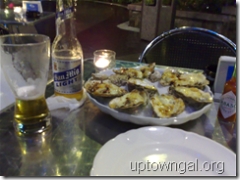 I had 10 baked oysters with San Miguel Light and…
8 raw oysters with gin tonic on my last night in Makati. The waiter eyed me curiously… and finally couldn't suppress his curiousity and asked where i was from. Haha. All Filipinos i met claimed they're big eaters. They've not seen a real big eater man…
Still had strong craving for the oysters so i went back to the Oyster Bar for 8 more raw oysters and a cheesy onion soup (the best i've ever tried!) before i went to the airport to catch my flight back to Singapore.
I love Makati City, Manila! 🙂