---
---
Brushed my teeth and was going to bed when the craving for Sheridan's Coffee Liqueur struck. Went to the kitchen to get a litttle bit of it. Finally mastered the art of pouring more coffee than milk in the cup. Previously, i think i poured like 1/2 milk, 1/2 coffee… which doesn't make sense since the bottle has 3/4 coffee, 1/4 milk. Anyway, with the right tilt / angle, the mix is ooh so good! Add ice and it's perfect.
Here's a bottle (again) of Sheridan's Coffee Liqueur for all to admire. I highly recommend it!
*Bliss*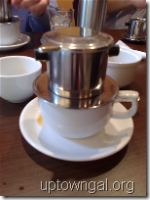 Oh and since we're on the topic of coffee… have u tried Vietnamese coffee? The one i had in Ho Chi Minh was fantastic… thick, very sweet, with a mocha aftertaste.
Tried the one at this authentic Vietnamese Restaurant at Boat Quay (forgot the name of the place… it's between Smile Clinique and TCC). Taste of the coffee is ok… but diluted compared to what i had in HCM. The hot coffee's ok… but once u pour it into the cup of ice, the coffee becomes like drain water… way too diluted.
Took this photo discreetly during lunch. That's the contraption that the Viet coffee is "dripped" from. The coffee powder is added with boiling water into the small little "pot"… and it slowly drips into the cup below. After all the powder / water flows down, the coffee is ready. 🙂
Anyhow, i'm no big coffee fan. Coffee to me has always been "medicinal"… as in.. it's a drug to keep me awake. Heh. That's all. I don't appreciate coffee 'cos of the bitterness… and i think coffee drinkers would agree that the amount of sweetener/sugar i add takes away the natural flavour of the coffee.
Heck… i don't care. Just give me my Sheridan's Coffee Liqueur… ooh…