---
---
I can be such an idiot sometimes. Went to search for my digicam's data transfer cable 'cos i wanted to transfer photos from my digicam to my laptop.. then i realised i could've just plug the SD card into the card reader slot on my laptop. So much more convenient. Duh…
Anyway, we had a night of revelry at Sentosa courtesy of a Lloyds Syndicate in Singapore… where they invited (i think all) the brokers they work with for a fun get-together. After the initial greeting and small talk that lasted all of 10min (maybe less), my colleagues and i settled at 1 table at the far end of the place and started tucking in to what was left of the food. Heh.
As the night got older, more people started leaving and soon… the remaining folks were gathered at the bar area… except us. Hehe. We were all settled and comfortable at our table. I said, "It's lonely at the top". Hehe. We ARE the top brokers after all. 😛
Here're some photos from Bora Bora and Cafe Del Mar (we just went there to look-see and take pictures. Hahahahaha).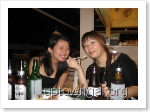 Bubbs & Booze Queen… with lots of beer
The drinking starts!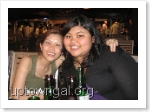 Dewy and me… Far from the maddening crowd..
I love these coasters, courtesy of the Lloyds Syndicate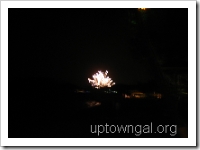 Did u know they have fireworks after every musical fountain show?
The "all by ourselves", "lonely at the top" brokers.
Cafe Del Mar (really sandy bed…)
U know, there was so much booze, some of our cameras got drunk. The above sober shots were from my camera… but here're some ghostly drunken shots from another camera…
Booze, booze…
And more booze…
At least it sobered up for the fireworks!
This shot looks like something out of some detective show… some old yearbook shot when "they were all friends"… before someone goes missing, suspected kidnapped/murdered… and some detective tries to trace the history of the missing person by going back to some small town where he/she's from…
Ok… i have a very active imagination.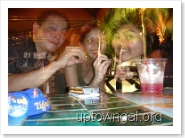 And this shot? It looks right out of My Date With A Vampire! Remember the sub-plot about this big-head baby that was terrorising people? We all look like ghostly big-bead babies out to haunt the world!
More ghostly shots.. my cigarette's borrowed from DV. Haha. Just for the pose!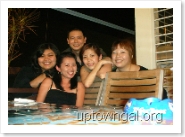 Finally. A normal shot of us all. 😛
There were more Eon folk actually… scattered around… but i bet we had the most fun. Hehe.