---
---
Ballarat / Sovereign Hill
My 6th aunt, who migrated to Australia 30 years ago, brought us to visit Ballarat, a old gold-mining town when we were there.  We also went to Sovereign Hill, an old gold mine, to er… mine for gold?
At Sovereign Hill, you can pay A$6 for a pan and a chance to "mine" for gold at this riverlet.  I refused to pay the A$6… I mean… not for tiny flecks of gold dust!!  Hehe.  My mom and my 5th uncle's wife tried it though… and hammed it up for the camera.  😛
My 8th aunt had an even more practical solution – she paid A$8 and got a little container with gold flakes inside as a souvenir.  I got one as a gift from her too.  😛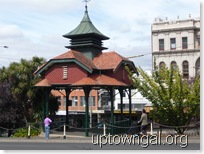 Ballarat Town
I have an obsession with phone lines…
If you bring a chisel…
As we embark on our hunt for gold…
The Great Pretenders.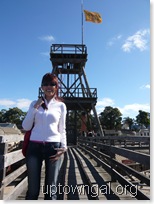 This is atop some mining structure at Sovereign Hill.
A shop selling quaint old table-cloths.
Living conditions of the miners.  The Caucasian version.
Chinese miners' living quarters.  Glad to know not all early Aussie migrants were convicts.
St Kilda
My 6th aunt (aka my Australian aunt) took us to Melbourne city centre to visit the Casino 'cos my cousin works there.  I was bored to death 'cos I don't gamble.  Don't know how… and am just not interested enough to learn.  Hey, even mahjong doesn't interest me!  :P  That's probably the most atypical Cantonese trait of mine.. heh. 
St Kilda was really lovely.  We had a leisurely lunch at one of the sea-facing restaurants, walked along the beach-side stalls, and had tea at an Italian-styled cafe.  Really wonderful touristy area.  Worth visiting!
Melbourne city centre.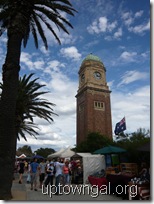 A clock tower at St Kilda
My mom wearing her newly bought hat.
Good thing we had nice sunny weather that day!
There were many pretty paintings for sale but I thought they were a little over-priced.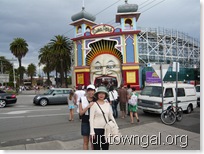 I griped quite a bit about the poor photo-taking skills of the people I was with.  This is evidence of it – why the heck does it look as though my mom and I ar
e being chomped on by the monster?!
The strawberry meringue was deliciously sweet and yummy.  My cousin's choice of blueberry cake was er… nicer to behold than to ingest.
I thought this painting inside the cake shop was very cute.
This is how St Kilda is like… tons of cafes to help you grow fat.
Saw this sign at Melbourne city centre when we were going back to my aunt's place.  I just HAD to take a photo of it.  😛
Didn't really get to spend much time in Melbourne due to time constraints.  We did visit Philip Island but you're not allowed to take photos of the little penguins so too bad…
Part 3 – Hobart pics, will be coming up real soon!  🙂