---
---
When people heard I was going to Adelaide, everyone said the same thing to me – "It's BORING!".  Well, Adelaide is indeed a very quiet town.  We stayed at 2 service apartments that were right in the heart of the city so that made getting around easy.  Food was cheaper in Adelaide too!  Thank goodness.  Haha.  And while drivers in Melbourne were quite paranoid about getting fined by the traffic police, the drivers in Adelaide were quite reckless!  I saw cars beating red lights at least 4 times a day.   It's crazy man!!
Oaks Horizon – Master Bedroom.  Patience had a friend, Bearbear, who was smuggled to Australia in Iceman's luggage.  She was very glad for the company though she kept beating him up at first 'cos she thought he was trying to be funny by saying his name was "Bearbear".  She's not very patient.
Our very well equipped kitchenette.
Nice living area.
A very interesting erm, dustbin in the middle of Rundell Street (that's the main shopping street in Adelaide!)
Iceman & I visited Central Market & I just had to take a pic of the yellow bananas to honour the Funky Bananas!!
Chinatown.  I'm proud to be Chinese.  We're everywhere!  Muahahaha.. *evil shriek*
I thought the message on the closed door was funny…
Iceman's MBA course mate took us up Mt Lofty early early in the morning.  Pity it rained so the view was cloudy and we didn't get to see anything.  Sigh.  Exact same sight that greeted me on Mt Wellington in Hobart!
We did manage to do a bit of walking and I was bushed!  (Pun intended…)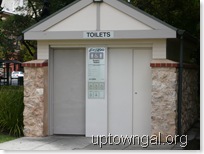 Sibeh high-tech public toilet ah!
The University of Adelaide
A typical historical "Victorian" style house in Australia.  Seen one, seen all.
The National Wine Centre in Adelaide.  (Booze Queen – took this pic to tempt u… rows and rows and rows of wine!!!!)
More booze!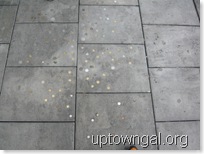 Very interesting pavements in Adelaide – strewn with coins from various Asian (I think) countries.  Saw 2 or 3 ringgit coins there… but only 1 SGD 0.20.  SGD not cheap..
Miller Apartments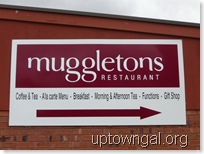 Food for humans with no magical powers…
Hahndorf, a village where the early German settlers sunk roots.  So some sunk more than roots…
German Char Siew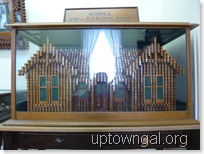 Lego's predecessor.  This model was made w/o glue or screws!  Just pegs!
I liked that reddish tree.  The leaves looked like maple leaves but I really don't know what it is.
You can put bunnies on anything and I'll like it!
Puppets!
Yummy Gelato!
The Pie Cart
Comes with special parking ok!
Adelaide's Festival of Lights
Check out how the same building changes its look!
A mixture of various local produce at one of the vineyards in Mclaren Vale.  The cheese was sooooo good.  First time I actually loved the blue cheese!
Another vineyard… can't remember the names now!
First public toilet in Victor Harbour ah!  Don't play play.
This was supposed to be the biggest rocking horse in the world.  Heh.  Found the place by accident while driving to Barrosa Valley.
At the National Motor Museum
The Whispering Wall (it's really a dam).
Yeah, works.
Iceman's MBA convocation
Didn't do much shopping but this is the Adelaide Arcade.  Heh.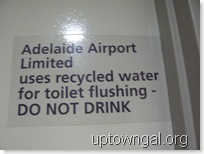 Saw this sign at the Adelaide Airport.  I think they're weird.  I wouldn't drink water used for flushing toilets, recycled or not.  😛
Phew!  That was a looooong post since I spent 1 whole week in Adelaide.  Overall, it was a great trip.. though Bigmac is still sore about my long holiday!  Heh.