---
---
Life in Philippines is sloooooow.  My flight arrived early.  Instead of 8:40pm, I landed early at 8:25pm but waited till 9:05pm to get my luggage and by the time I got to the hotel, it was 10pm.  Sigh.  Was starving.  Took photos of my lovely room (not as luxurious as Shangri La but still nice nonetheless), then went to check out the Club lounge, and then headed to the coffee house for dinner.
Gosh!  Dinner was yummy but so pathetically small!!  I was starving even at the end of it.  Thinking I may eat the fruits in my room.  Heh.  Here're the photos of my room & the hotel.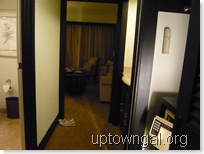 At the entrance of my room.  The toilet's on the left, wardrobe's on the right.
Sofa area.
I love the king-size bed.
Check out the nice cushiony hanger!
The pathetic little serving of Sukiyaki.
Hotel lobby.
Hotel lobby area.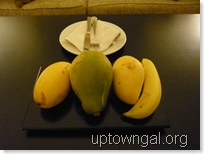 I think the fruits will come in handy later… hungry…
I got a bit of a scare when I first opened my room door.  I heard this high buzzing sound… of a TV that's switched on but switched to a silent channel.  I was a little scared 'cos I was worried that maybe there was some screw up or something and the room was double booked. 
I paused for a short while but hearing no other noises, I ventured deeper into the room.  The TV was on.  But it was to the main menu and guess what?  The TV even had my name on it!  Fwah!  Talk about cool man!  Heehee.
Okie… gotta go shower… soon… *yawn*.