---
---
I'm proud to say that despite my short trip this time (arrived on Mon night, leaving now – Wed late afternoon), I managed to accomplish all the personal stuff that I wanted to do!
Woke up a little later on Tue morn – 9:30am since the morning meeting was postponed.  Once Upsize confirmed that we would only be meeting at 11:45am, I ran out of my hotel room at 11:10am to go to The Landmark's supermart to buy my dried mangoes!  Wanted to get dried jackfruit but it was out of stock.  Heh.  Bought dried bananas instead, as well as Wrigley's chewing gum.  Hehe.  After my purchase, I ran (really really ran) all the way back to the hotel so that I could change out of my jeans into a suit to meet Upsize for meetings.  Heehee.  It was a good workout!
The 2nd thing that I simply had to do in Makati was to return to Via Mare Oyster Bar at Greenbelt 4.  I spoke about the food incessantly till Upsize agreed to take the underwriters there for dinner.  Come to think about it, the original dinner invitation was from the underwriters – as in they wanted to buy Upsize dinner.  (Ok, that sounds funny… as though they wanted to buy a huge meal…) Don't know how come we ended up paying instead!  I mean, I got the bill 'cos Upsize asked me to get it… but as I'm typing this, it suddenly occurred to me that… hey… it was supposed to be their treat!  Damn those underwriters!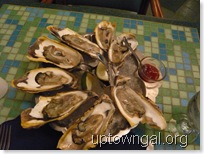 Anyway, that was one torturous dinner.  'Cos though we were at the Oyster Bar, Upsize didn't order oysters!!  Even after I asked at the end of the meal if we could order 1 plate of oysters but was turned down by Upsize.  Nonethless, I persevered.  I refused to give up.  After dinner, we went for 1 more drink, and then Upsize and 1 of the underwriters went off for more drinks, leaving me and another underwriter at Greenbelt.  The 2nd underwriter decided that she wanted to go back to her hotel to do some work so I gladly walked her to the cab stand, and returned to the oyster bar.
The waiter and security guard gave me strange looks when I walked in.  But I persisted and ate 16 oysters!  Woohoo!  Heehee… and it only cost S$15 lor.  Cheap right?  Heh.
Oh yeah.  Wanted to write about some new tips I learnt about Makati.
Firstly, if you ever stay at the Interon, and you pay for a "Club Interon" room, you get unlimited Internet access at the Club Lounge.  For Net access in the room however, you still have to pay for it… unless… you go to the Club Lounge, get a username and password, and then use that in your room.  Heehee.  Found that out by accident.  Heh.
Secondly, always always try to reach the airport in Manila 3h before your flight's departure because it just takes super duper long to clear immigration.  And if you're inside and have nothing to do, don't bother about the foot massage or eating at the airport.  Just pay Php 400 (or USD 10) and use the "Paying Lounge" (aka the "Sampaguita Lounge") on the 4th level.  There's snacks, buns, sandwiches, muffins and fruit juice that comes with the amount you pay.  Plus unlimited Internet access too!  Stupid me bought food from the departure hall before finding out about the Paying Lounge.  *Sniff*.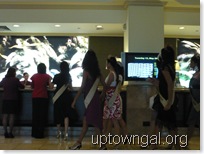 Oh… and guess what?  There was some Miss Earth Philippines pageant held at the hotel where I was staying in.  Unfortunately, the contestants weren't that fantastic lah.
Wanted to get a pic of their faces but couldn't whip my camera out in time.
Went for a 1.5h walk around Glorietta / Greenbelt area before I came to the airport.  Didn't manage to do any shopping but I did come across the Ayala Museum at Greenbelt 4.  Was very hard pressed for time so I could only do a cursory tour of the 4 floors.  I would highly recommend it.  For only SGD15 (approximately), it was very worth it.  There's a gold artefacts exhibition, exhibition of paintings, and a clay figurine type of exhibits telling the history of Philippines.  Definitely will visit it again on my next trip.  (Was so pressed for time I ran back from the museum to my hotel in 10min).
Ooh… I think I see my plane now.  Gotta go soon. 
See you back home folks!
P.S. Sorry if the formatting turns out warped 'cos I'm rushing (again!)