---
---
Nakajima again…
Nico Rosberg captured on the big screen in front of our seats!
Renault (Piquet)
Force India (Sutil)
Williams (Nico Rosberg).  Finally managed to get a clear shot of him.  It was sooooo difficult to take his picture!
Ferrari (Massa)
Ferrari (Kimi)
McLaren (Hamilton).  I tried many many times… but couldn't get a clear photo at all.  I'm going to blame it at the speed he was driving.
No guesses regarding my theory why this is my clearest shot of a F1 car…
Renault (I think this was Alonso)
Panasonic Toyota (Not sure if it's Trulli or Glock).
Pit Grandstand (courtesy of Phiten!)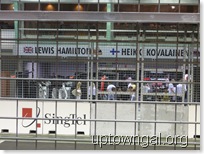 And the garages… Hammie Hammie!
Rosberg Rosberg!
The rest…
…
…
…
Ah!  Stupid girl taking photos again.  Terrible!
*Cues song.. Desperado*
That's all for Day 2.  🙂