---
---
Iceman, Muah Chee & I have been waiting for this weekend since Feb.  The very first night race in F1 history.  Here're some photos to mark the event!
Map of the entire race area.
Many local names set up shop at the race village – Old Chang Kee, Breadtalk, Din Tai Fung, etc.
The race merchandise were expensive!  Iceman's BMW t-shirt cost $100!  The BAD thing is… there were several merchandise booths around… and the one near City Hall MRT sold the same shirt for $130.  I think someone made a mistake somewhere 'cos all the prices were handwritten on paper & stapled to the shirts.  Tsk tsk.
Azure, Iceman and Booze Queen making their way toward our grandstand.
There were other races held before the actual F1 event… Aston Martin, Porche and Formula BMW.  This is a BMW race car.  (Look like a vintage F1 car… haha).
There were also a fringe performances (both live and DJ-spun) throughout the weekend.
Booze Queen buying.. what else but booze?
Lots and lots of tyres were used this weekend… haha.
Advice for people going for future races?  Please wear sensible footwear.  There're sections of ground that are uneven, muddy and gravelly.  Stilettos are really not advisable.  (You should've seen this girl struggle).
If you haven't notice already, the weather in Singapore is… HOT,  HUMID.  Leggings?  Duh…
Bomb sniffer dog!
Formula BMW car
Another one…
And another!
A Porsche race car
Another with the Singapore flag (I loved this!)
Same car going out onto the track!  (Can you spot Iceman among the crowd?  Haha).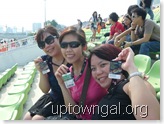 Booze Queen, Azure and me at the grandstand!
Aston Martin.  Realised I only have 1 pic of a Aston Martin!  Hahahaha.  My digicam was running moderately low batt on Fri so I tried to save the batt for the F1 practice session instead.  Heh.
Coming up next… the F1 practice session on Friday!