---
---
Now that the gowns are almost settled, it's time to decide on the hair.
#1
My usual stylist says a French bun is good for the day look as I'll need a neat hairdo so the veil will sit properly on my head. I quite like the french bun… should I run ribbons or something inside the French bun something like this?
#2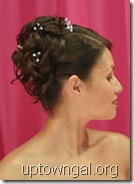 I like this curls a lot too… but will it look old if I use this with the evening gown?
#3
Love this loose curls but not sure if it'll work on straight Asian hair.
#4
Loose bun! I like! Maybe this for the pre-wedding outdoor shoot? I like the tendrils falling around the face.
#5
Azure suggested I should have a hairdo with half my hair down so the pre-wedding photos won't turn out oldish. But this style might be a little too simple?
#6
Think I might settle for something like this for the evening gown… it's definitely more unusual than #2 above. I'll have it with fringe swept to the side though.
#7
Think would be excellent for the kua… but… don't think got time to change so many times. Heh.
#8
I like this too! But I suspect it's for short hair… and I don't think I'll look good in this.
#9
I like this too! The white pearls in the hair… but… ok… it's a bit old fashioned… I realised I have old fashion taste in hairdos…
#10
This looks nice… but… I think it'll end up looking Chun Li….
#11
I love love love love this loose curls look! But once again.. don't think it suits me? Don't know… must discuss with stylist… don't want to end up looking like 1990s getai singer. Heh. Good thing is… since I have 2 dinners… I can have different looks for both! Woohoo!
————————————————
Upon further thought, maybe I'll do #5 for pre-wedding photoshoot, #7 for pre-wedding kua photo (I think I get to change hairdo… I forgot… but will try for it anyway), either #4 or #1 for actual day white gown, #11 for JB dinner and #6 for SG dinner. How does that sound? (Other than complicated)…