---
---
Argh.. sleepy sleepy.  Was dilly dallying last night and ended up sleeping at 2:10am.  Thank goodness I ironed 4 dresses on Sun so my work attire from Mon – Thurs is settled.
Went to the tailor during lunch & dropped off the lining for the gown.  Decided to stop by International Plaza since I was in the area.  In the end, I decided to get the pair of silver diamante shoes I was eyeing the past month for the wedding.  At $190, they're expensive, no doubt about that, but the shoes will be custom made to fit my feet, which according to the owner of the shop, is a size 8 length & size 6 width.  I suppose you can see why no off the rack shoes fit me comfortably.
I snapped a pic of the shoes discreetly 'cos the owner was serving other people (the shop was very crowded) and I didn't have the opportunity to ask if I could take a photo (which I felt was ok since I already paid for a pair!!).
It's the one in the middle… very simple design, and I had it made in silver.  I figured it will be good not to have to bother with buckles & hooks since the bridal gown's long & heavy & I don't want to have to lift up the can-can just to wear the shoes.  Very unglam.
Iceman and I also bought the "Jazz in the City 2" album from That CD Shop over the weekend to be played as background music during the dinner.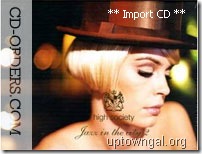 Disc One –
1. Aselin Debison – Over The Rainbow/ What A Wonderful World (Medley)
2. Lisa Ekdahl – Rivers Of Love
3. The Peter Malick Group feat. Norah Jones – Heart Of Mine
4. Johnny Mathis – The Rainbow Connection
5. Carly Simon – I Only Have Eyes For You
6. Renee Olstead – A Love That Will Last
7. Everything But The Girl – Almost Blue
8. Julia Fordham – Lovin' You
9. Basia – Waters Of March
10. K.D. Lang – After The Gold
11. Luther Vandross – What The World Needs Now
12. Diana Krall – I Remember You
13. Will Young – What's In Goodbye
14. Cyndi Lauper – My Baby Just Cares For Me
15. Peter White – Fantasy
16. Chris Botti -The Look Of Love
17. Tony Bennett & K.D.Lang – La Vie En Rose
Disc Two –
1. Michael Buble – Feeling Good
2. Norah Jones – What Am I To You?
3. Rosa Passos – Besame Mucho
4. Westlife – Fly Me To The Moon
5. Keiko Lee – Night & Day
6. Sinead O'Connor – I Want To Be Loved By You
7. Alison Moyet – That Ole Devil Called Love
8. Jane Monheit – Do I Love You?
9. Bette Midler – Big Spender
10. Eliane Elias – So Nice (Samba de Verao)
11. Michael Bolton – When A Man Loves A Woman
12. Neville Brothers – Bird On A Wire
13. Annie Lennox – A Whiter Shade Of Pale
14. Rick Astley – And I Love You So
15. John Pizzarelli – Unforgettable
16. Martina McBride – True Love Ways
17. George Benson – The Greatest Love Of All
*Yawn*.  Okie… time to start working again… zzz…