---
---
I used to decorate my NTU hostel room with these photos.  They're some of my most loved photos of me as a kid.  Will be using some (if not all) in the photo montage for the wedding… but here's a preview anyway.
2 weeks old (I was born with a head full of hair!)
Probably about 4-6 months old? 
My favourite toy 'cos you could play "records" on it!  Think I was about 10 months here.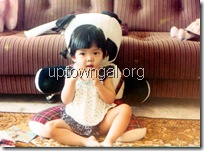 Argh!  My dad always made me do this idiotic pose.
My mom and Auntie Nanny
When I was in kindergarten.  Pic on the left is me celebrating my birthday at Ken World at Parkway Parade.
I loved ballet.
My kindergarten graduation concert!  I was sooo proud to lead one half of the dancers.  Heh.
Genting Highlands – when I was in primary 4.
Anyone remembers who to play "zero point" or "yay yay"?  Hehe… (see the girls playing with that elastic string in pic on the left).
The girl in the pic on the right was my classmate who brought me to church.
That's all the photos for now.  It's getting late and I'm really tired.  I'm told my features look pretty much the same… at least that's what my hall friends said 'cos almost all of them could pick me out from the photos w/o a doubt.  Heh.