---
---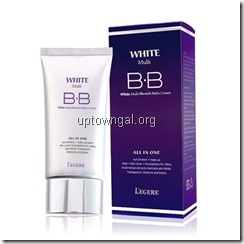 I wanted to write a note on this earlier but didn't have time for it… then got back from Greece, fell sick, got busy posting photos of the wedding & honeymoon, and so this got pushed back even more.  Heh.
Anyway, just for the record, after some research & discussion with Booze Queen, I went to buy the L'egere BB cream as well (I got the one in the pic above… the tube's really more silver than white though). 
Comparing L'egere and Silkygirl, the former suits me better 'cos of my dry skin.  Silkygirl's BB Cream makes my face a little dry by the end of the day (say if I apply it at 8am in the morning and remove my makeup at 11pm) and if I were to examine my face b4 removing my makeup, the fine lines under the eyes and at the side of my mouth are more apparent. 
L'egere's BB Cream is a little creamier but the longer it remains on my skin, the better it seems to blend?  I'm not sure how exactly to describe this but if I were to examine my face before removing my makeup, it looks as though I have no foundation on, but yet have very smooth skin.  Heh. 
So the conclusion is, I'm sticking with L'egere's BB Cream for now.  That said, when I used Silkygirl's BB Cream, I applied my blusher directly on it.  For L'egere, however, as it is a little creamier in texture, I dust on some face powder (am using Silkygirl's face powder.. nothing special) before I put on my blusher.  Am overall very satisfied with this combination.  🙂
Anyway, that's just my personal take on the 2 brands.  There're lots of reviews on BB Creams so if you want to know more, just do an online search.
P.S. L'egere BB Creams can be bought at Robinsons @ Plaza Singapura.