---
---
This is the hole that joins the master bedroom to the 2nd bedroom.
The contractors broke one of the lights… lucky we weren't intending to retain any of them.
Here's a pic of the living room and balcony.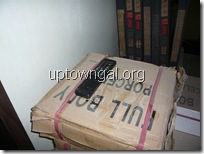 We find strange things in the flat everytime we pop down to inspect – like this TV remote control.  We don't even have a TV in the flat!  Where did this remote control come from?!?!
Ah… that will eventually be used as part of our toilet bi-fold doors.
The sliding windows at the balcony were one of the first things that got done.
The pic isn't very clear unfortunately but that's a pseudo-marble looking tile we're using for our living & dining areas.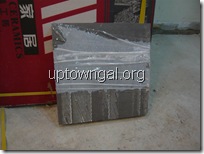 Our master bdrm toilet floor tiles.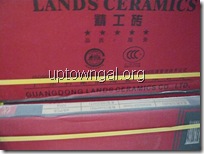 Not sure what tiles these are but hey!  It's from my ancestral hometown, Guangdong!  😛