---
---
I've not gone back to Canteen (aka Il Fiore) since my company moved out of Singapore Land Tower in Nov 2009.  Some of us decided to revisit it for old times' sake.  Pics below!!
Remembering 31 Dec 2010…
Our office was only opened half day, after which Napkin, Booze Queen & I grabbed a quick drink at Blarney's @ Icon.  That's my Guiness looking kind of stunted next to Booze Queen's Erdinger… just like how my handbag looks stunted next to hers.  Hehe.
Booze Queen & I adjourned to "Canteen" after that. It's been more than a year since I visited canteen – last time was on the last day our office was at Singapore Land Tower (Nov 2009). 
Some other friends arrived before us and ordered the above food.  Tip – the weird squid thingy is not nice.
I ordered my usual drink from canteen, vodka cranberry.  Sadly, the bartender who recognises us has left to be a money broker.. and I was given this super weak vodka cranberry.  No alcohol at all man!!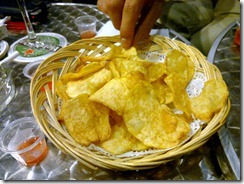 My favourite potato chips!
The otak-otak is fantastic!!
Canteen gave out these free jello shots which I think we deserved, after the weak drinks I had.
Anyway, here's a toast to the year gone by.  May we all have a better 2011.  God bless!!