---
---
Went for my very first countdown event because I got wind that David Tao was going to perform 10 songs (I think he did about 12 songs in the end) and I thought this might be a good chance to meet him in person.  Heh.  The countdown show, in my opinion, was boring.  Most of the performers were green and unpolished.  Some event went off key!  Here're the photos I took of the night.
The stage before the event started.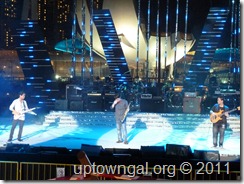 Some saxophonist from China who's now studying in Singapore.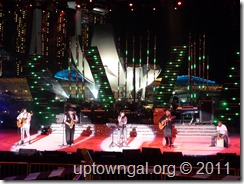 The Singapore Char Siew Paus – no prizes for guessing once u've seen their size.  They were pretty good…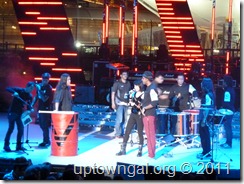 This group, Voodoo, made music out of banging metal tins & stuff.  They were surprisingly good.
The Dessert Rose – they were contestants in One Moment of Glory (thought I think Gory would've been a more accurate name).  They were doing belly dancing, supposedly, though I thought it looked more like Chinese dance.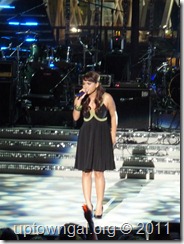 Sylvia Ratonel – I quite like her voice actually.  She said she's going to Shanghai to perform after this… though I wonder how she's going to cope with the language barrier.
Jack & Rai.  Never been a fan but they were pretty good and professional compared to some of the other acts.
And presenting the best performer of the night…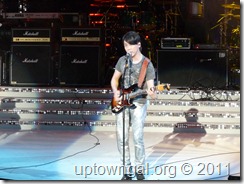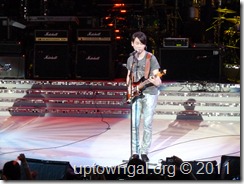 DAVID TAO!!!!!
Other members of his band include: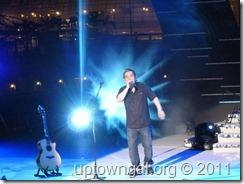 Our Singaporean homeboy, David Tan, on vocals & lead guitar.
His drummer from LA – Brenden Berkley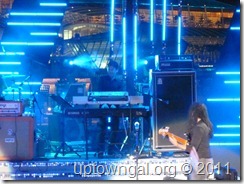 Keyboardist & music director, Goh Kheng Long (yup!  Another Singaporean!)
Jingles the bassist.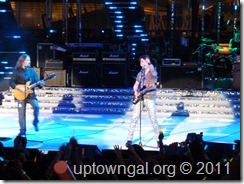 On the left is Jamie Wilson, also on guitar.
Sylvester Sim and his band, Queen, also performed.  His singing seems to have gotten worse since his Singapore Idol days.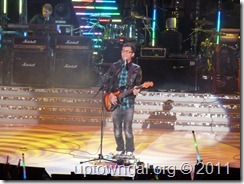 Sezairi – still as mediocre as ever.
Skinny & short guys just don't have stage presence.
Sheik Haikel.  He's a big guy and he can rap!!
One Nation Emcee.  Wah lau eh… they really irritated 2010 out of me man.  Especially the minah's fake American accent that had such strong Malay tones.  Argh…. couldn't stand it.
Michelle Chia stumbled on her lines a little after we went live.. kinda strange 'cos she was pretty natural before the show went live on TV.  I really admire her drop dead gorgeous figure though!!
David wishing Sheik a Happy New Year while Sylvester looks super left out.  Hahahaha.
Aiyoh Sylvester, mai so sore leh…
That's all the pics I have – unfortunately.  After the show, 2 other DT fans and I actually went to the back of the building to wait for David Tao.  He came over to talk to us before boarding his van to leave for his hotel. 
Glad that I finally managed to say hi to DT in person (for those who don't know, DT's pretty nice to his fans.  He used to talk about his music on Twitter but has since moved onto Weibo.)  Sadly, he said I look more matured in my current hairstyle.. (i'm going to whack my hairstylist for this!!!)
Sigh.  Regret not asking DT for a picture together.  I thought it might be a little weird 'cos we were separated by those grill barriers and his assistants seemed to want to usher him away as quickly as possible.  Think he only chatted with us for like 5 minutes?
Oh well.  I'm glad he remembers me from Twitter.  Haha.  Makes the $41 ticket price worth it.  WAHAHAHAHAHA.