---
---
Sightseeing in Tokyo…
Just a note: the captions belong to the pictures above them.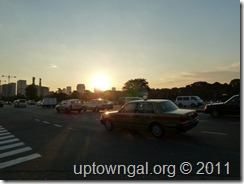 Tokyo street @ sunset.
Imperial Palace, Tokyo
Traditional Japanese women
Ginza area, Tokyo
A local buying breakfast at Tsukiji Fish Market.
Corn on the cob, anyone?
Really crowded at Tsukiji Fish Mkt in the morning!
Yummy breakfast!
Sedap!!
Asakusa, Tokyo
Love the trinkets on sale!
The temple at Asakusa
More pics taken from the temple grounds.
Tokyo Tower
More pics coming up in Part 4!!