---
---
This post has been long in the making.  I know I've said a few times that I will eventually post my Japan photos… but never got down to it.  Problem is that I took loads and loads of photos and after uploading them to FB, it just became too much effort to post the photos here.
That said, on this hot Sun afternoon, I've decided to just pick my favourite photos & share them here.  I originally wanted to diarise my trip my doing a day by day post of what I did in Japan… but like I said… it's just TOO MUCH EFFORT!
And for those expecting the last instalment of my HK (Mar 2011) trip photos.. sorry lah.  Change my mind.  Hahahahaha.
(Captions are below the photos)
Sapporo & Furano
Pokemon plane!
Another cutesy plane!
First taste of ramen in Japan.  My favourite combination – scallops, butter, corn & char siew!!
Even the construction work signs are so cute.
Sapporo Clock Tower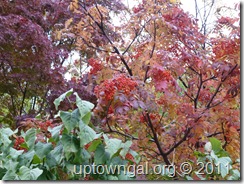 Pretty leaves & berries.
Tiny houses at the Shiroi Koibito chocolate factory.
Pretty wedding cakes!
More pretty cakes!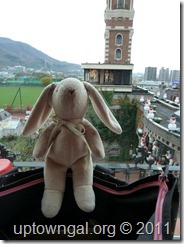 Patience enjoying the view at the cafe at the chocolate factory.  (Well, she was enjoying the view before taking the pic).
Yummy chocolate!!
Love the reflection.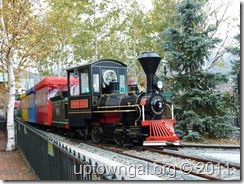 Choo!  Choo!
Love the colours of this pic.
Char siew being flame grilled (Sapporo Ramen Alley).
The end product – the best char siew I've ever had in a ramen!
Squid ink cheese from Sapporo Cheese Factory.
I've always liked this sort of long paths framed with trees.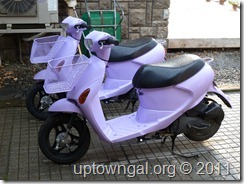 Lavender scooters at the Furano Lavender Farm
Lavenders at the green house at the farm.More photos coming up in Part 2!!