---
---
Went to The Line for the Oyster Night with Azure, Iceman and BAT (whom i may have to change the nick soon 'cos he's been going to the gym and his derriere is getting smaller!). The buffet spread was pretty decent – sashimi (not very good… tough and chewy salmon, not very fresh sword fish, acceptable tuna), dimsum, Indian cuisine, Western cuisine, etc.
There were oysters from 11 different locations in the US, France and Canada. The American oysters were a waste of time… small, and generally not very palatable. The French and Canadian oysters… ah… those were worth our while. Big, juicy and succulent, they were a delight to savour with tabasco sauce and lemon. Yummy. (Though the ones i had in Philippines were STILL fresher!!).
Dessert was fantastic too… the chocolate fondue was great though the stuff u could coat the choc with was limited. Only strawberries and biscuits! The other desserts available were things like crepe, apple pies, tiramisu, mango pudding, lemon pudding, etc. Pretty good.
Conclusion is that it isn't worth paying $68++ for the buffet. HOWEVER, if u have a HSBC card, there's a 4pax for the price of 3 promo… which means the bill comes to $60/pax. Now THAT, is worth it. 😉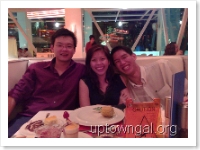 A very happy trio…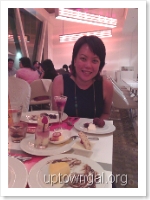 Someone's diet got ruined tonight… check out the dessert!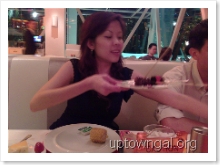 I was happily re-arranging the plates of dessert before taking the above shot. Hehe.
We were REALLY really stuffed…
Broke my record of 18 oysters in 1 sitting in Manila!
BAT ate the least no. of oysters… negligible compared to the rest of us… Azure did well with 21 (i think). Iceman and i broke even – 26 oysters each. Hehehe.