---
---
My company celebrated the first staff retirement today. If u saw LL in person, u would never have guessed that she's 62! I thought she was in her 40s when i first met her.
The marine department arranged a farewell thingy (i have to call it 'thingy' 'cos we're sad that she's leaving… so using words like 'celebration' and 'party' just wouldn't be right).
Here're some semi-anonymous photos from the farewell thingy.
Some of the presents… beautiful lilies!
Our Managing Director giving a speech.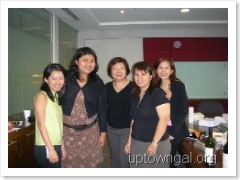 Bubbs, Dewy (previously known as Ratz/GG), LL, Super Drinker (previously known as YL), and me!
J-San & LL. He's been getting on our nerves lately.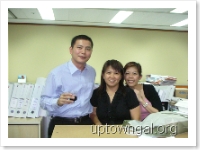 Dodgy (aka Deep Voice), Super Drinker and me.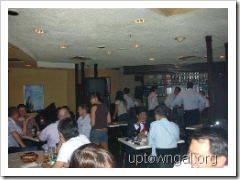 An indoor shot of Canteen. Not part of the farewell thingy. But how can anything be complete w/o a trip to Canteen?
Heh. 🙂
Actually i wasn't at Canteen tonight. Went to meet a friend for tennis since my coach cancelled on me AGAIN!