---
---
Stayed at the Crown Princess KL over the new year.  The place SUCKS!  So heed my advice and don't EVER stay there.  Here's why it sucks…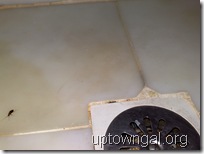 The first time i saw a baby roach in the toilet, i thought never mind, it's an old hotel, so finding 1 roach might've been something inevitable, and i decided to let it pass.
But when i found another 3 roaches on the morning that i was checking out, i thought that was just too much.  This hotel has totally failed my hygiene standards!
The service by the hotel staff wasn't very good either.  The breakfast venue was way too under-staffed – only 2 waiters to oversee the entire place.  And the 2 waiters were really inefficient too.  They would clear plates from a table, then get distracted and started clearing bowls from another table, and before they were done with the 2nd table, moved onto a 3rd table to clear cups.  This resulted in ALL the untaken tables  being half cleared, and people who came into the breakfast venue had no place to sit.
Oh… and before i forget… the bedsheets and towels were also stained.  I believe they were washed… but shouldn't hotels stop using those that have stains that couldn't be removed?  Just terrible!  ARGH!
I want to post a negative review about the hotel on asiarooms.com (booked the hotel from that website) but couldn't find the link to post reviews.  I've emailed asiarooms.com about this review issue… hope they reply soon!
Anyway, here's a belated Happy New Year to everyone.  🙂