---
---
On to some nicer news, the reason why i was in KL over the New Year was 'cos i was attending MT's wedding.  CONGRATS MT!!  Wait… i haven't told her about my blog.  Heh.
Oh well, here're some pics i took.  🙂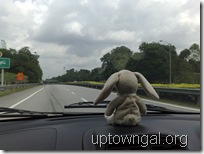 Patience took a ride with us up to KL.
Crown Princess didn't look that bad at first… before the roaches came along…
View from the room wasn't too bad actually.  Could see fireworks during the countdown celebration too!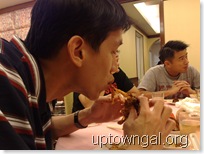 Fightking's latest favourite eating place in KL – Restoran Overseas at Jalan Imbi.  The char siew is the ABSOLUTE BEST!  Here's a pic of Iceman tucking in… oh wait.. that's the "bighead prawn"… the Char Siew disappeared before i could take a pic of it during the dinner.
KLCC.  Nice pic right?  Postcard worthy hor?
Dancequeen & me
I loved the ballroom – especially the Christmas lights hanging at the curtains against the wall…
(Hotel  Nikko)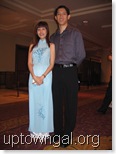 I look like a Vietnamese bride hor?  Heh.. but i high class.  Euros 10k please…
A nice display at the hotel.
The luxurious toilet bowl at Hotel Nikko
Fantastic laska place at Segambut.  Oysters, clams, prawns, cuttlefish… sedap!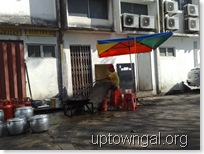 This is how the sambal is stirred!  I bet u it's the branch that gives it that extra oomph!
A cheery Christmas display at The Curve (atas shopping centre in KL).
Iceman and i went to Restoran Overseas for lunch before we left KL.  This time, i managed to get a shot of the Char Siew… heh.
Love the food in KL.. heh… don't like the shopping though.  Didn't buy anything – 'cos i don't like the local fashion, and the international brands carries the same stuff as the shops in Singapore.  🙂