---
---
Iceman and I went on another excursion yesterday to scout for locations for our wedding photoshoot.  I first came across Changi Boardwalk in Geman's facebook photos and it looked quite nice so we went to check it out.  Here're some photos from yesterday…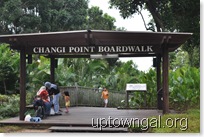 Our starting point.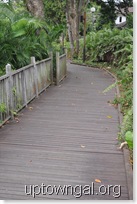 I like how the wooden panels on the floor are not too new?  While the boardwalks at Henderson Wave are also wooden, they're just too new… missing the rustic feel that I like.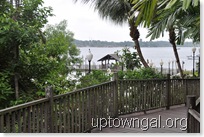 A peep of what lies ahead.
  Lots of people fishing.
  I think I would really like this place as a photoshoot venue.
If you look at the beach, you can see that the tide rises till just below Changi Beach Club.  Wonder if it's an effect of global warming… or were the architects/engineers risk takers when they built the club…
  Poor little kite in the ominous looking sky…
Don't ask me why I asked Iceman to take a photo of this tree.. it just looked a little forlorn… roots exposed in the red soil and all…
I hope this tyre survives till our photoshoot… though it'll mean climbing over some uneven ground to get to it.  Saw a couple taking wedding photos at the beach yesterday… the bride was in heels.  Ended up removing her shoes 'cos you obviously can't walk on sand in stilettos.  Didn't it occur to her to bring slippers or track shoes or something??  How silly.  *Shakes head*.
Same pavilion as above but different angle.
Same little kite.
I think what sets Changi Boardwalk apart from other "beach front" places is that there's some colonial architecture left over from years past.  Like these railings… I love it.
Another nice spot for photoshoot.
Isn't that bench cool!
Not many people sailing yesterday…
Quite unusual to see such rocks on Singapore beaches.
Someone with short arms drowning in high tide.
I didn't know before yesterday that there are homes along the beach
And instead of looking out for cars, you have to look out for boats launching.
The skies were a little cloudy for photos yesterday… so everything looks grey and gloomy.. but I'm glad 'cos I don't want more freckles on my face!!
Yay!  Now we have 2 places to go for our wedding photoshoot.  🙂